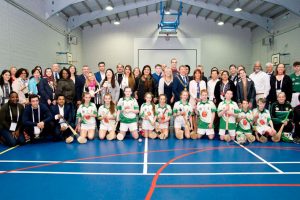 In 2015 Cork achieved a UNESCO award as a Learning City, one of only 3 cities in Europe and one of 12 cities worldwide, recognising Cork's continuing excellence and commitment to lifelong learning.
This week, more than 650 delegates from 92 countries across the globe gathered in Cork for a conference on learning run by the UN's education, science and culture organisation, UNESCO.
Yesterday, Terence MacSwiney Community College, situated in the heart of Knocknaheeny, a UNESCO designated Learning Neighbourhood, hosted Cork's Lord Mayor, Tony Fitzgerald, ETB Chief Executive, Ted Owens, Cllr. Ciarán Lynch, and 45 delegates from the Conference.
UNESCO defines lifelong learning as going beyond classroom education in a person's formative years, to informal education that extends across lifetimes. Delegates experienced examples of that first hand as they were taken on a Learning Trail in the College where they talked to students and staff members about various projects undertaken in Terence MacSwiney and CityNorth College that complement the Department of Education and Skills curricula. They viewed and took part in a range of activities from the Motorbike Project, the Apple iMovie and GarageBand showcase, the Traveller Selfie Art Project, and the Horse Project.
They also met with Post-Leaving Certificate adult students from CityNorth College's Community Healthcare and Hairdressing courses. Delegates got hands-on experience of Cardiac First Aid in the Healthcare skills' room and in hair-styling techniques in the College Hairdressing salons.
Two fun highlights of the Learning Trail for the multi-national delegates were an introduction to the traditional pursuits of hurling an Irish dancing.
Captain of the Cork Senior Hurling team, Stephen McDonnell, impressed delegates with a display of hurling skills before inviting them to participate themselves.
Down in the Foróige Linkpoint Building, groups of delegates enjoyed music from a Céilí band led by the school's music teacher, Margaret McCarthy, and learned how to dance 'Ionsaí na hInse' or 'The Siege of Ennis' helped by students and teachers from the school.
Finally, before lunch was served, the delegates mingled with a host of other Cork ETB service providers who set up an exhibition in the school's Assembly Area.
Overall, the visit was a great success with delegates expressing their admiration at the breadth of learning experiences available to students in the neighbourhood and their delight at the warm welcome they received from the students and staff of Terence MacSwiney Community College and the wider Cork Education and Training Board.